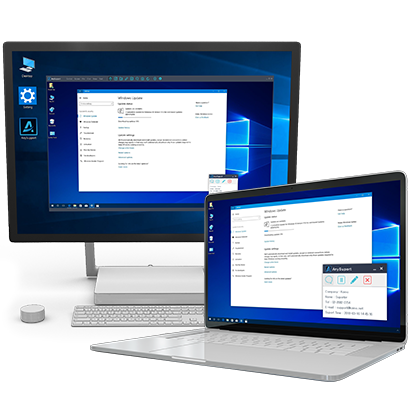 ANYSUPPORT
Desktop Edition
Web-based remote support solution that allows screen-sharing of customer's monitor to resolve issues whenever, wherever. Because agents can see the actual screen of the customer, AnySupport allows agents to diagnose and solve customer problems fast, regardless of time and location. As a company, cut unnecessary call costs and reduce travel visits. Increase customer retention by enabling clear communication and troubleshooting of the issue.
ANYSUPPORT provides easy-to-use, manageable and secure remote support software at an amazing price.
Desktop Edition Main Functions
Remote control
Through keyboard and mouse control,
use all functions of the remote PC.
File transfer
Send and receive files with ease
during remote session (via drag and drop).
Reboot and reconnect
Even when the customer's computer is rebooted during remote support, it automatically reconnects with the agent—a convenient feature for unattended devices.
Real-time chat
Supports real-time chat between customers and agents. Chat history can be saved and managed.
Drawing
Helps the agent specify and communicate on the screen without directly controlling it.
Multi-monitor
Even if the customer has dual monitors, the agent can still view both monitors on one monitor.
Desktop Edition System Requirements
For Agents
Windows XP, Vista, 7, 8, 8.1, 10 (32-bit/64-bit)
macOS X 10.8 (Mountain Lion) - 10.13 (High Sierra)
For Customers
Windows XP, Vista, 7, 8, 8.1, 10 (32-bit/64-bit)
Mac OS X 10.8 (Mountain Lion) - 10.13 (High Sierra)
Linux Ubuntu, Red Hat, CentOS
Supported Browsers

On Windows, macOS, or Linux:


Google Chrome
Mozilla Firefox
Opera
Apple Safari



On Windows:


Internet Explorer 6 - 11
Microsoft Edge
There's a
'million ways'

to use ANYSUPPORT.

Remote support service with a million monthly users. From an IT helpdesk to a construction site, it's a tool that can be integrated into so many areas.